Dear charming friends, here we go! We've been working hard in the past months, and now we're glad to introduce you to our new unmissable manual available on Amazon in Kindle Edition (the paperback will follow shortly).
The title is appealing, and so is the content: Flattering Fashion is the perfect handbook for those who want to put together in minutes impeccable and trendy outfits that enhance your figure while gifting you with unique style.
The key to looking fashionable is something different than just wearing trendy items. Being stylish and attractive is instead related to the ability to make wise use of trends, turning fashion to your advantage instead of merely accepting it, and in this enjoyable manual, you'll learn how.
.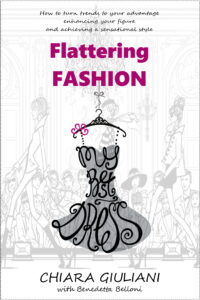 .
As you may know, in my previous style manuals (Wardrobe Essentials for a Woman of Charme and 101 Ways to Look Slimmer and Taller in particular) the attention was mainly on those staple pieces that allow a figure-lengthening outcome – basic items that you should always have in your closet and that produce put-together, flattering outfits no matter the trends.
The truth, though, is that in your closet—as well as in stores—there are also pieces from the latest fashion that, even if they are anything but staples, are nevertheless essential to great style. Not only do they add a bit of zing to your clothing but, let's admit, they also make dressing more fun while allowing you to express your mood and personality.
Pulling off the appropriate proportional balance with these pieces can be trickier as they often are kind of unproportioned by nature. However, since they can make the difference between an ordinary ensemble and a super stylish one, making wise use of them is an essential feature if you want to pull off amazing outfits while looking your best.
In this manual, therefore, we will explore the world of trendy, fashionable, and in-vogue articles.
.
.
You will learn the most effective hints to enhance your assets while boosting your style with the support of geometrical rules and visual tricks that will allow you to shape your figure and achieve a proportional, flattering outcome, enhancing your outfit (and individuality as well).
Many trends have a flattering potential indeed; you just have to find it.
.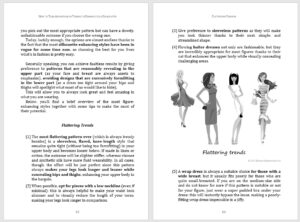 .
With the support of the techniques that you will find in this book, you will soon become able to:
(1) identify, for each garment category, the trends and styles that can flatter your silhouette and those that, on the other hand, are seldom flattering as they frequently have an enlarging effect on most figures,
(2) identify the most appropriate pairings, learning which styles need to be balanced out through wise use of accessories, and
(3) acquire new style skills that will allow you to have fun with whimsical items whenever you want.
.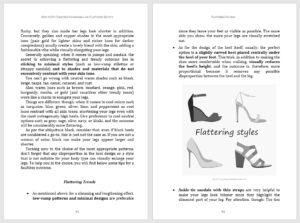 .
The book will provide you with practical tips and easy-to-follow steps to look trendy while enhancing your figure.
You will soon become able to identify figure-enhancing colors and details, achieving a fashionable look and effortless allure, and emphasizing your unique qualities with the countless charme-boosting tools provided by fashion.
.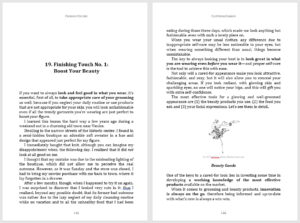 You will learn how to put together stylish ensembles that will be so much more than trendy and so much more than just up-to-date.
You will feel beautiful, gorgeous, and more self-confident, because you'll learn to have fun with your wardrobe, boosting your self-confidence with the help of fascinating insights that will take your wardrobe—and your perspective on beauty—to the next level.
And the good news is that this won't require extra time or money. Conversely, most of the time, you will save both, elevating your style and everyday life.
Who doesn't want that?